The 31st December 2020 marks the 300th anniversary of the birth of Prince Charles Edward Stuart. To commemorate this special occasion the West Highland Museum has organised a series of articles written by scholars, academics, authors, and Jacobite enthusiasts. In this eighth in the series, art historian Peter Pininski focuses on some important newly discovered Jacobite portraits.


Important Newly Discovered Jacobite Portraits
Just when one thinks that there can be little else to be discovered, relating to Jacobite portraiture of the highest quality and/or greatest interest, fate puts such impertinent presumption firmly in its place. That certainly applies to the last two years.
In 2019 the Aberdeen-based professor of history, Robert Frost, noticed a portrait which was believed by its owners, the National Museum in Kielce in Poland, to be of Prince James Sobieski. But he, the Jacobite expert Professor Edward Corp and the present author, have demonstrated that it is, in fact, a previously unknown portrait of the seventeen-year-old Prince Henry Benedict Stuart – and of superb quality. We are trying to confirm our attribution of Étienne Parrocel, it apparently being a version of the same image in the collection of the Dukes of Alba, the Spanish descendants of the illegitimate son of King James VII & II, James FitzJames, Duke of Berwick, whose inventory gives it as by Parrocel.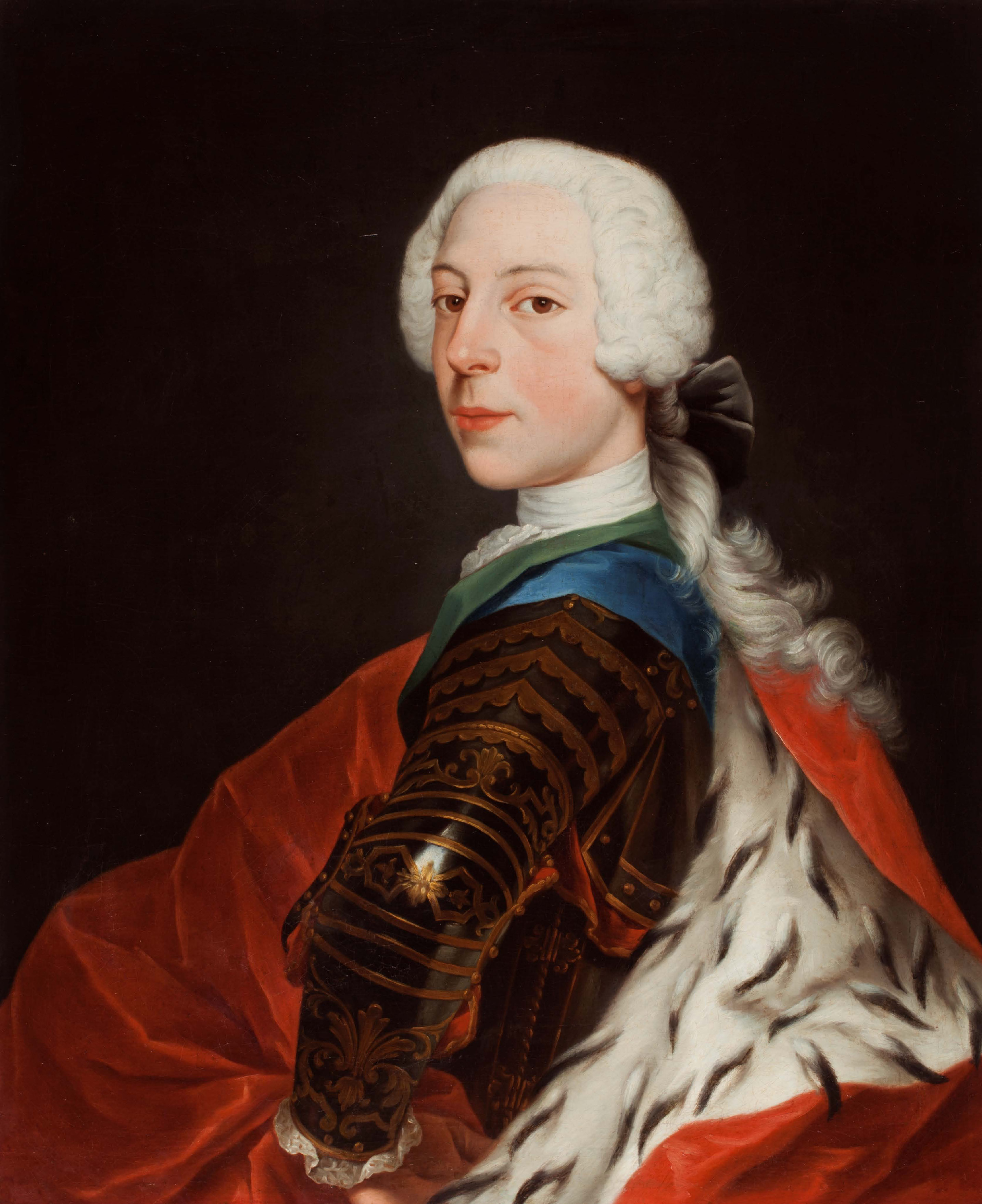 We are also trying to establish its provenance prior to 1945, when it is thought to have come from the collection of Count Charles Roger Raczyński, whose estate of Złoty Potok was not far from Kielce. However, it is impossible not to notice that the museum in Kielce is housed in the old bishops' palace which, at the time the portrait was painted in 1742, belonged to, and was partially refurbished, by Bishop Andrew Załuski. He was an inveterate snob who loved to display his high-born connections and who, together with his brother, Bishop Joseph, was the Stuarts' plenipotentiary for the Sobieski inheritance. Załuski was a man so close to King James VIII & III as to be described by the latter as 'my cousin' in a letter describing their 'sincerest friendship'. Both documents are in Department of Manuscripts of the Polish National Library in Warsaw. In the nineteenth century the bishops' palace in Kielce was used as Tsarist office during the period of the partitions of Poland, and almost all of the furnishings were sold off. Who would have been more likely to have acquired the art previously housed there, than one of the local aristocrats? But this newly-discovered portrait of Henry, together with the one of Prince Charles by Parrocel which the Dukes of Alba have, makes a magnificent pair. Frustratingly, the usually full and detailed Stuart Papers lack the financial accounts for 1742, which might otherwise have thrown light on the matter.
More recently, in 2020, the Edinburgh auction house, Lyon and Turnbull, offered a pair of portraits portraying James VIII & III and his queen, Princess Clementina Sobieska. By curious coincidence, only a few days previously Christies in London auctioned another one of Clementina, related as an image, but en buste and smaller in size. The Lyon and Turnbull pair were correctly catalogued as being 'after Trevisani', but the Christies one was initially described as being 'by Trevisani'. It was that incorrect attribution which had probably caused it not to sell in 1987, 1988 and 1990, despite its price being reduced each time, as it was obvious that it was not good enough to be by Trevisani. Having brought this to Christies attention, the attribution of the Scottish painter William Mosman was accepted, and the painting then sold for a good price. But to return to Lyon and Turnbull's pair of James and Clementina – they were indeed 'after Trevisani', but by whom?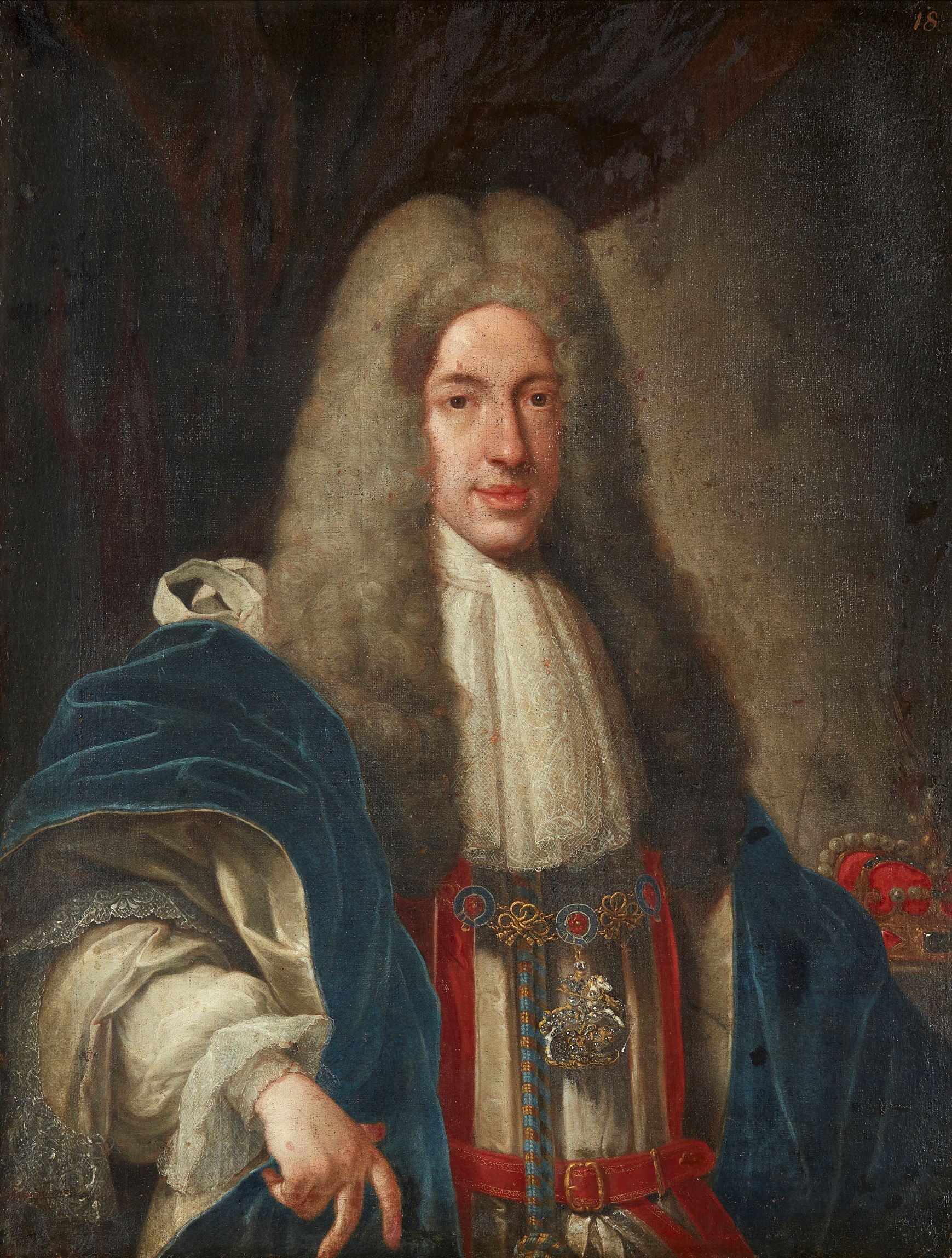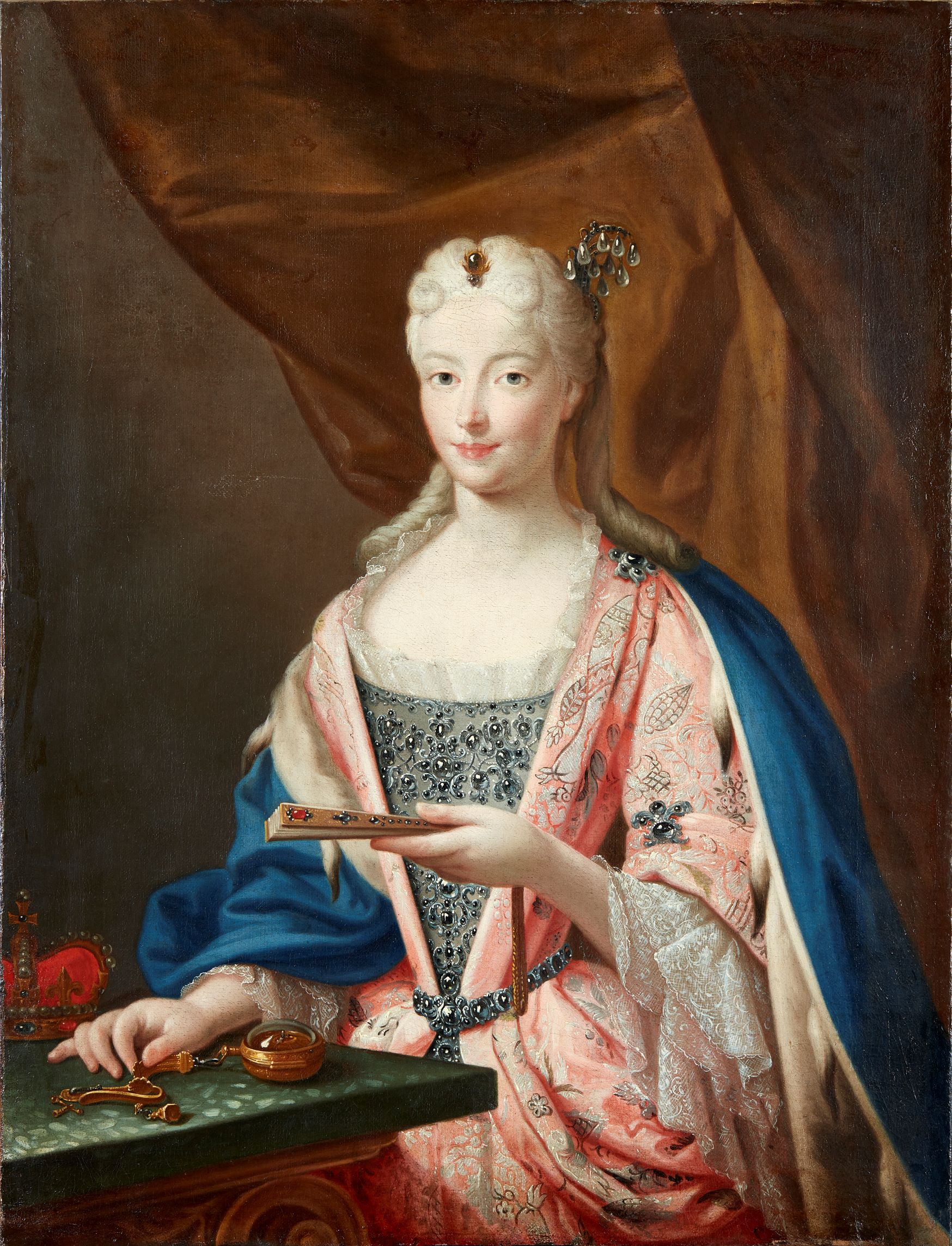 In 1719 Francesco Trevisani made two pairs of portraits of the royal couple. One was for the Stuarts, the second was for his patron, Cardinal Pietro Ottoboni, and in 1720 he made a third, for John Erskine, the Jacobite Duke of Mar. Of his three portraits of James, the Stuarts' is now in the Royal Collection (undoubtably by Trevisani because George IV acquired it from the Henry Stuart's estate), Ottoboni's has disappeared, and Mar's (evidently by the same hand as the one in the Royal Collection) is in the Scottish National Portrait Gallery. Of his portraits of Clementina none have survived, except for a small oil on copper sold at Christies in 2015, presently in a private collection in Rome.
Then, in 1732, the Aberdeenshire William Mosman went to Rome for six years to study under Francesco Imperiali. The following year he painted two pairs of portraits of James and Clementina, which were copies of Trevisani's originals of 1719, then hanging at the Palazzo del Re. One pair was for the wealthy Jacobite Captain John Urquhart of Craigston and Cromarty, whose correspondence with Mosman still exists, of which only that of Clementina survives and today is in the Scottish National Portrait Gallery (described as 'by Trevisani'). However, of the other pair, made for George Keith, 10th Earl Marischal, both James and Clementina's portraits survived. And they are the ones which were sold in 2020 by Lyon and Turnbull. Though now in private hands on the Continent, their owners have strong links to Britain where it is hoped they will be exhibited in the near future. And the survival of this portrait of James allows a comparison with the ones in the Royal Collection (hanging at Holyrood) and at the Scottish National Portrait Gallery, which shows that it by an obviously different hand, namely Mosman's.
There remains Christies' smaller oval portrait attributed to Mosman, which is an interpretation of the original, no doubt made later from sketches which he must have done whilst copying the originals at the Palazzo del Re for Urquhart and Marischal. For reasons associated with its provenance, it is highly probable that it was made some time after 1733, possibly in Britain after 1738, for Marischal's brother, James Keith, the future Prussian field marshal, who together had declared James king in September 1715. Having passed to the Keiths' cousins, the Earls of Kintore, then to the Dukes of Manchester, it is today in a private Scottish collection. But it is the Lyon and Turnbull Mosman of Clementina which is the most interesting. Because it has not been damaged by poor restoration and, although a copy, the original no longer exists. Moreover, is the only portrait of Clementina painted by a Scot whilst she was still alive, showing her in late 1719, aged seventeen, just months after her dramatic arrival from her parents Silesian castle in Oława (Ohlau), prior to becoming a mother a year later.
Again in 2020, but this time at an auction held by the Dorotheum in Vienna, another discovery was made.
King James VIII & III was painted in 1712 by Alexis-Simon Belle – the last before he left Saint-Germain for the Lorraine in 1713, after which he lived at Avignon (1716-17), then Pesaro and Urbino (1717-18), whereafter he lived permanently in Rome. The Hanoverian regime had kept up relentless pressure on the French to push him into the closest possible association with the Papal States, a policy intended to damage the Stuart cause by emphasizing James' Catholicism. And this is the most important painting of James ever made, which he regarded as his semi-official portrait.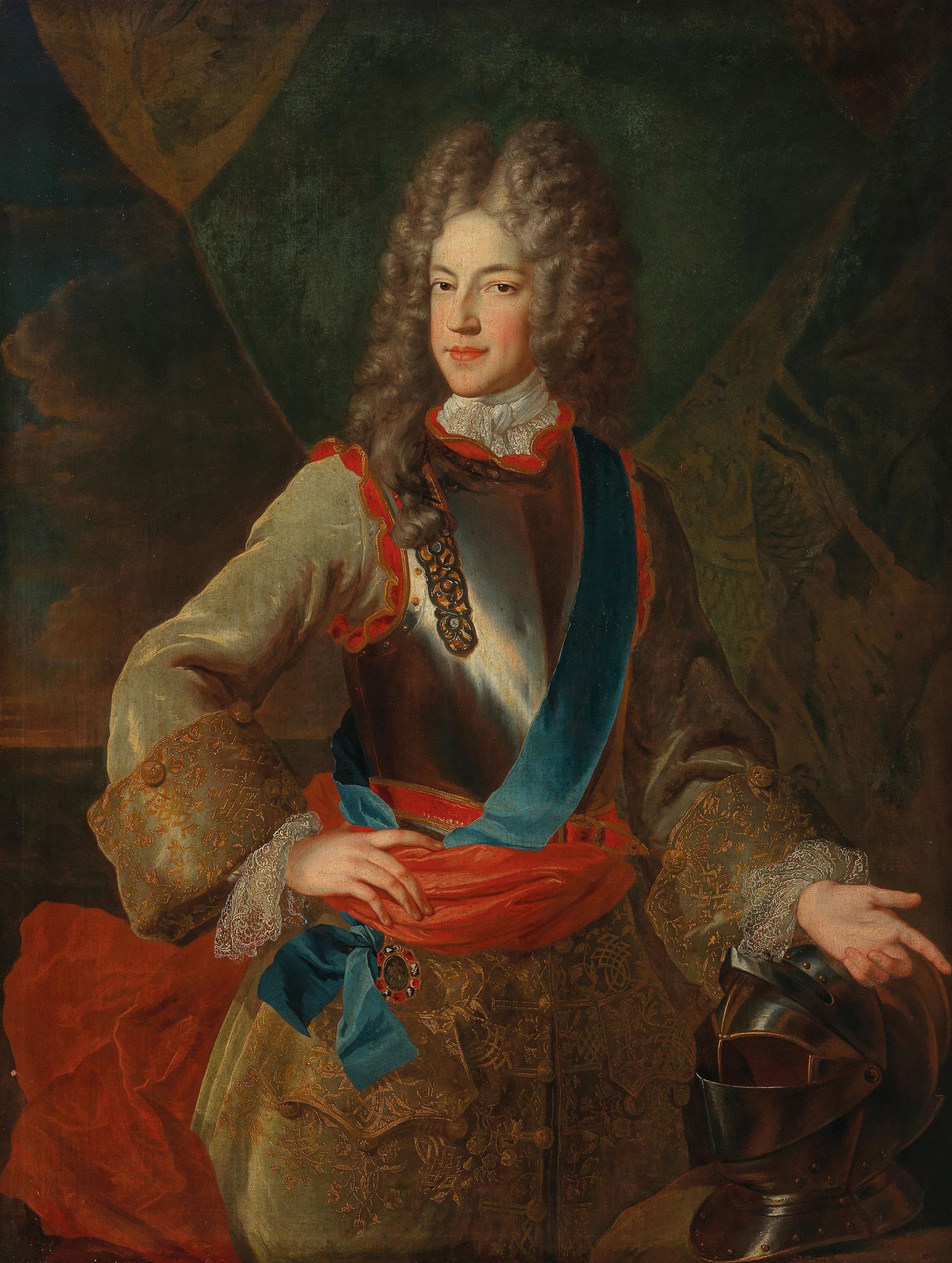 Until this year, it was thought that only three of the originals which James ordered from Belle existed. Suddenly a fourth had appeared, and though the varnish was dirty, it was in excellent condition and is presently being cleaned. The four originals were intended for James himself, his mother Queen Mary, Louis XIV, and probably the Duke of Perth. Though all were painted at the same time, it is not known in which order, and in each the background curtain, landscape and sky differs, evidently painted by various of Belle's apprentices. Of the four only the provenance of the one given by James to his mother in known. She gave it to Winifred, Lady Strickland, and in the mid-18th century it was owned, with another of the four, by Thomas Strickland-Standish of Sizergh Castle and Standish Hall. He left the one from Queen Mary to his younger son together with Sizergh, where it remained until 1896. The other, with Standish Hall, went to his elder son. The former is owned by the UK Government Art Collection and hangs at the official residence of the First Minister of Scotland, Bute House on Charlotte Square in Edinburgh. The latter is at the Abbaye de Longpont, having passed by inheritance to Count Anne-Pierre de Montesquiou Fezensac after the last Standish of Standish Hall died in 1920. The third is at the Château of Versailles, having been bought by King Louis-Philippe in 1844 from a Monsieur Joyeau, presumably a dealer; but is damaged because the garter riband and jewel as well as the curtain have all been painted out.
The one discovered at the Dorotheum in 2020 now belongs to a private European collection well-disposed to the idea of exhibiting the portrait in Scotland, and was found in Belgium. In addition to the four originals, Belle and/or his workshop later produced smaller copies en buste. Of James' later Italian portraits none was ever engraved, because throughout his entire life this one remained his favourite. It was immediately engraved by François Chereau and on 13 February 1713 Thomas Innes wrote from Saint-Germain to William Stuart in Rome: 'There was done before he left his picture in taille-douce by the ablest painter and graver of this place and it is admired by everybody. Indeed nothing can resemble him more than it does now since his sickness, and none ever yet done in any way's comparable to it.'
That takes us to the last, but by far the most important discovery of all - a portrait of Prince Charles Edward Stuart, described by Dr Bendor Grosvenor, the expert on late-Stuart portraiture as: 'The Jacobite purchase of the century'. His comment was made in April 2019 when, thanks to David Forsyth of the National Museum of Scotland, it was presented to the public for very first time ever, by Professor Edward Corp, whose help given to the present author in its discovery was crucial. Spotted at a Christies' auction in New York in early 2018, the portrait is a pastel of Bonnie Prince Charlie painted in 1737 in Venice by Rosalba Carriera during the prince's highly acclaimed tour of the northern Italian states. The sixteen-year-old Charles and his chaperon James Murray, Lord Dunbar, arrived in Venice on 28 May and left on 10 June, dating Rosalba's portrait to the first week of June. It is unique, as the only portrait of Charles prior his departure for France in 1744 which stands alone, without a companion portrait of Henry. Until 2019 this painting had never been publicly exhibited and was known only by references to it in correspondence between King James and Owen O'Rourke, the Jacobite agent in Vienna, and in a letter to Lord Dunbar from Mrs Hamilton, another Viennese-based Jacobite.
According to the National Gallery in London, 'Rosalba Carriera's mastery of the pastel medium helped transform it into a serious and highly-admired art form', whilst Washington's National Museum of Women in the Arts describes her as 'one of the most successful women artists of any era'. The discovery of her portrait of the prince finally allows a comparison with the copy sold by Christies in 1995, undoubtedly the one which she was supposed to produce later in 1737 for O'Rourke. One can now see that this latter version is a studio copy, being by an obviously different hand, employing a significantly different technique. This copy, described as 'not one of her finest efforts' by the art historian Robin Nicholson, who at that time understandably presumed it to be by Rosalba, was obviously made by one of her apprentices. And there were good reasons for this. On 9 August 1737, James wrote to O'Rourke that 'the woman who draws it is old, and has a good dale [sic] of work on her hands, so that it may happen not to come to you so soon.' James himself didn't like the image, perhaps because it showed his son as he really was during that awkward period of adolescence, when no longer a beautiful child. Moreover, in the context of Rosalba's 'interest in rendering the sitter's inner psychology', as the Getty Museum writes, it may be worth recalling James' relationship with his son, which became ever more troubled, especially after the 1745 Rising. Previously spoilt, immature and badly behaved, Charles' tour of the northern Italian states was the first time when the prince felt free to be a man in his own right, effectively in competition with his father. Suddenly he became transformed - mature, modest, charming and charismatic. However, James had been, and always remained, patronizing to him, even after 1746. The two were very different. Did the ever-patient stoical James feel something about Rosalba's brilliant rendering of his son in 1737 which instinctively disturbed him; some harbinger of dramas yet to unfold? His son's pose and gaze is supremely confident, fearless, defiant.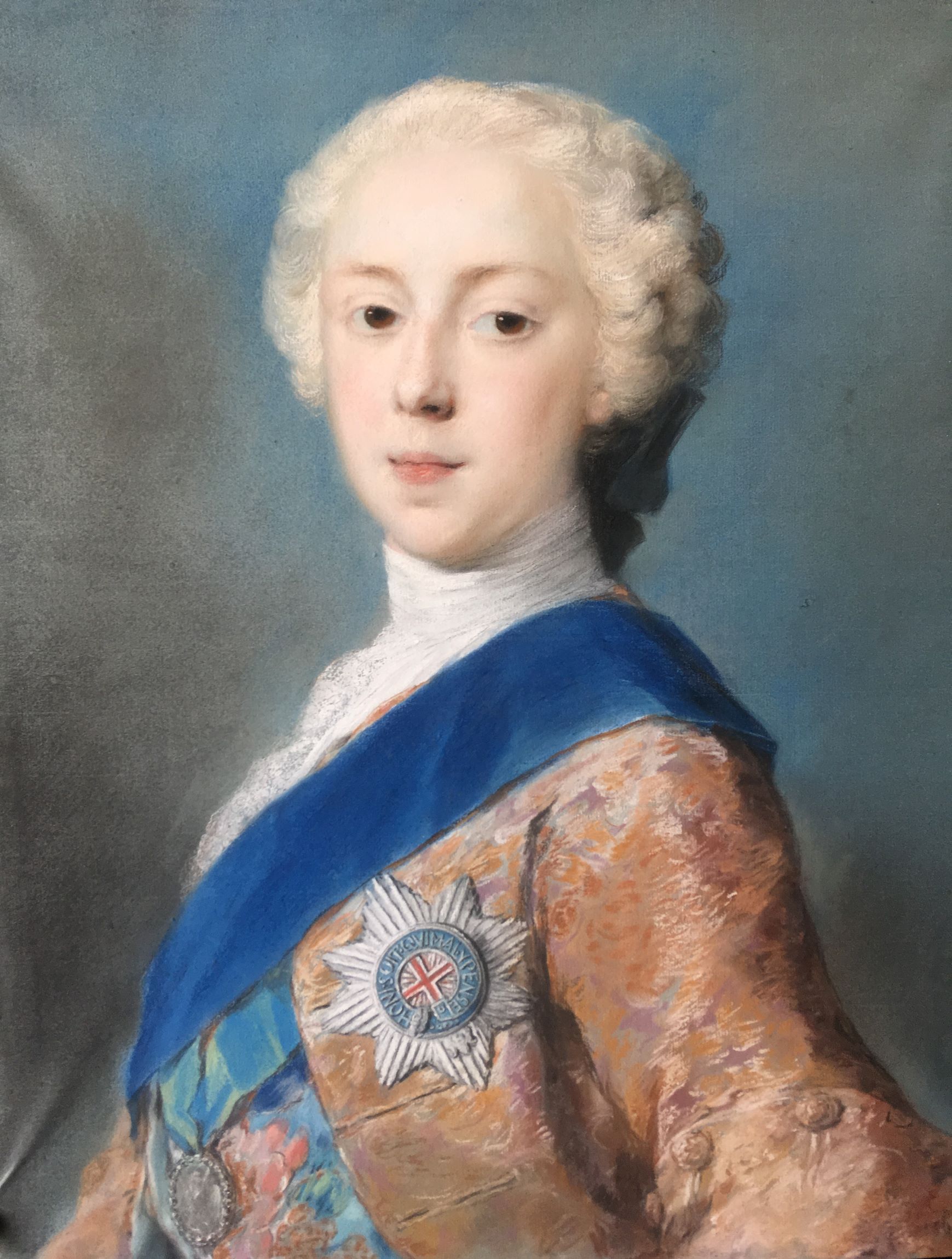 James then immediately commissioned new portraits of his sons, by Jean-Étienne Liotard which, though less accomplished, he personally preferred. Rosalba would most probably have heard of this and lost interest in making a second version for the unimportant O'Rourke, now knowing that she would not obtain further commissions for copies and miniatures from the king. In addition, the 'famous' Rosalba, as James wrote, was not only old and busy, but at the same time her beloved sister Giovanna was ill and died in 1738, after which her output dramatically diminished. As her portrait of Charles does not appear in any later Stuart inventory one may conclude that soon after, James gave it to one of his aristocratic Roman friends, from which city it eventually emerged some two hundred and eighty years later.
Part of the importance of Rosalba's pastel of Charles lies in the fact that it was the last one made before the cutting off of his hair, which took place on 3 August 1737, but moreover because it shows the prince exactly as he was at the time. We know this, because in Venice Rosalba had no earlier portraits by other artists, only the sitter himself upon which to base her portrait. This is important, because James gave instructions to artists regarding commissions. An example is the pair of portraits of the princes painted in 1729 by Antonio David, of which he made copies in 1732 which belong to the Scottish National Portrait Gallery, when the king told his court painter to age both of his sons by about four years, so the images would remain current for some time, for the purpose of making further versions, miniatures and engravings to be sent to influential Jacobite sympathizers throughout Europe. So the 1729 images of Charles and Henry do not tell us what they actually looked like at that time, only what the artist presumed they would look like in 1733. In other portraits made during the late 1730s we see, for example, Blanchet in 1738 using Liotard's heads of 1737. Furthermore, only the best painters can be relied upon to have provided an accurate rendering. So if we consider portraits of Charles which are both of the highest quality, and where we can be certain they show him as he really was at the time, Rosalba's of 1737 must be foremost amongst them. And when one considers the entirety of Rosalba's work, one wonders whether her superb pastel of the fascinating prince who was being feted at the time like a superstar, is not in fact her greatest work of all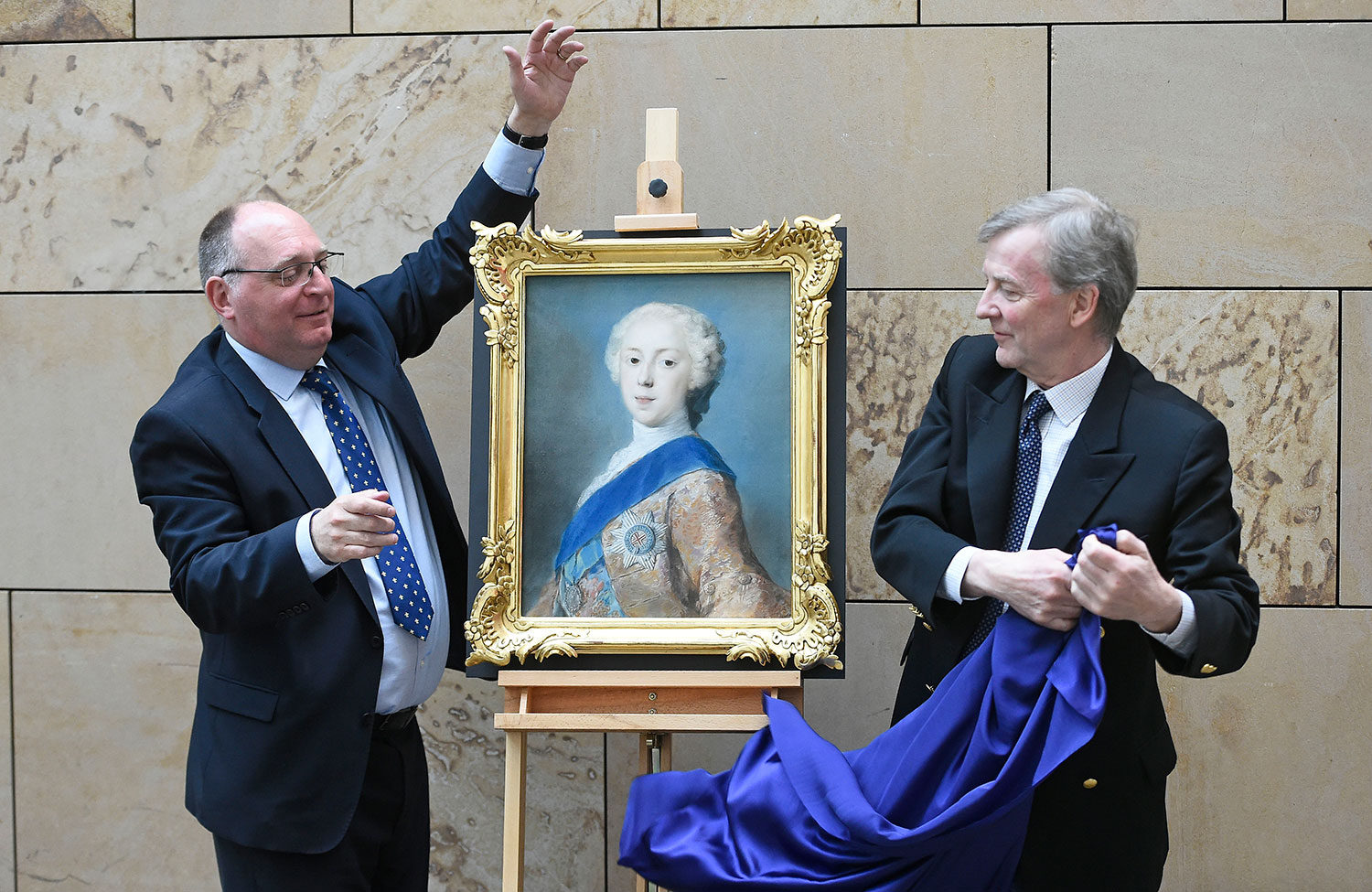 David Forsyth of the National Museum of Scotland in Edinburgh (left) and the author in 2019, unveiling Rosalba's newly discovered 1737 portrait of Bonnie Prince Charlie.
Peter Pininski